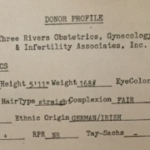 Public Group
active 2 years, 8 months ago
Hoping to find donor children associated with the Three Rivers Obstetrics, Gynecology, & Infertility Associates, Inc. out of Pittsburgh, Pennsylvania Google doesn't reveal much associated with this group. However, the Pennsylvania Department of State identifies Dr. Robert M. Stern as fulfilling all corporate officer positions. Dr. Stern is currently associated with UPMC Magee Womens Hospital and Three Rivers OB/GYN. More specifically, I am hoping to find donor siblings from donor K-2. See my profile for more details.
Pics/Docs/Files List
There are no documents uploaded for this group.