Social Network Connecting the 'Donor' Conceived Community
 Welcome to DonorChildren!
SEARCH FOR MATCHES ON THE MEMBERS PAGE.

Welcome to the FREE DC community!
Our Mission statement:
The first worldwide social network for 'donor' conceived people, sperm/egg/embryo/surrogate 'donors', and social parents of DC people connecting biological family and the DC community for support and to create a demographic body that can have a voice in the media, academic research, and create legislative change.
To connect to the community and find your family click here: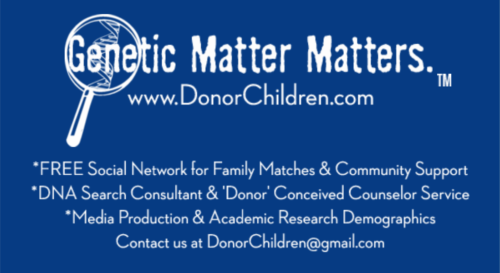 Inspirational Video by 'donor' conceived Kevin Staudt:
Read about SaraLiz34's success story and others by visiting the Success Stories page!